Kosovo: ending isolation, Elise Bernard & Fjollë Ibrahimi, ÖGfE Policy Brief, 18'2022
In July 2018, the European Commission confirmed that Kosovo had met the two outstanding requirements, thus fulfilling all benchmarks set out in the visa liberalisation roadmap. The European Parliament has voted in support of the European Commission's proposal which is still pending in the Council of the European Union. Thus, in a time where other Western Balkan countries are in a process of discussing different stages of the integration, Kosovo remains in search of visa-free regime. The authors of this Policy Brief argue that Kosovo's visa liberalisation process should be treated as a matter of urgency because the potential candidate country should move forward with its European integration process and enjoy the same perspective as other countries in the region.
Policy Recommendations
The EU member states should be coherent in their attitudes regarding the visa liberalisation of Kosovo.
Kosovo should engage in a bilateral level with sceptic EU member states and work on convincing those who hesitate to provide support for Kosovo in this matter.
Kosovo's visa liberalisation process, still pending in the Council of the European Union, should be treated as a matter of urgency.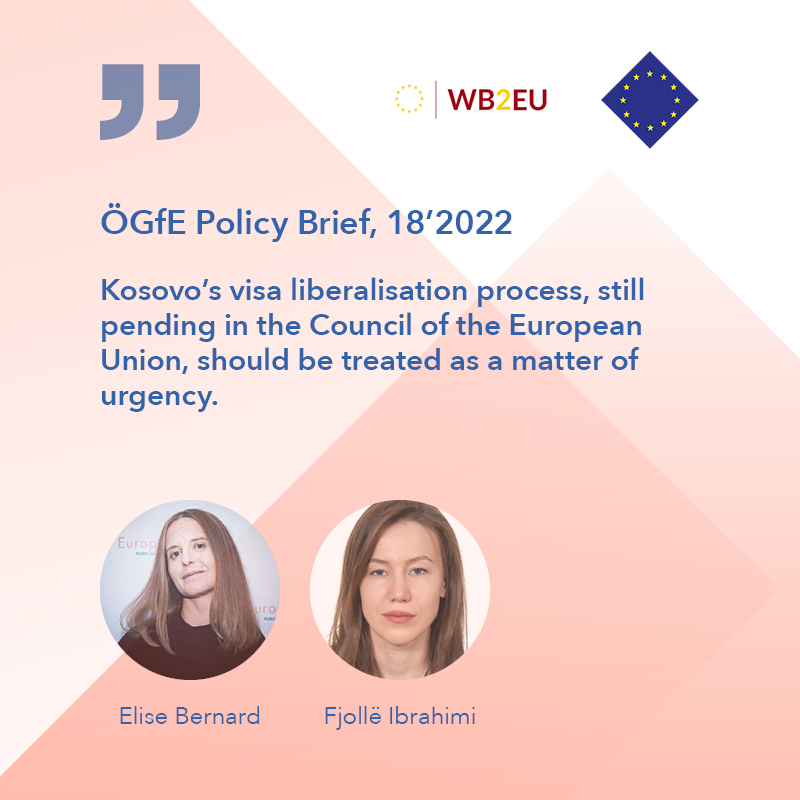 The Policy Brief is published in the framework of the WB2EU project. The project aims at the establishment of a network of renowned think-tanks, do-tanks, universities, higher education institutes and policy centres from the Western Balkans, neighbouring countries and EU member states that will be most decisive for the enlargement process and Europeanisation of the region in the upcoming years. The WB2EU project is co-funded by the European Commission under its Erasmus+ Jean Monnet programme.
The European Commission support for the production of this publication does not constitute an endorsement of the contents which reflects the views only of the authors, and the Commission cannot be held responsible for any use which may be made of the information contained therein.
Photographer: Etienne Ansotte
© European Union, 2018
Source: EC – Audiovisual Service